HEATING CONTRACTORS NEAR YOU
Servicing Uniontown, OH and Surrounding Areas
When winter approaches, the last thing you want is for your heating system to fail. That's why having a reliable heating contractor is so important. At Bonsky Heating and Cooling, we take great pride in providing top-notch heating services for our customers. In this article, we'll outline what a heating contractor does and why Bonsky should be your go-to choice for all heating requirements.
Furnace Installation
A heating contractor's primary responsibility is installation. This involves setting up heating systems in homes, businesses and other buildings according to industry standards, local building codes, and manufacturer specifications. Our heating contractor will assess your home's heating needs and recommend the right system for it; then they'll install it according to those specs with precision, guaranteeing everything works efficiently and properly.
At Bonsky Heating and Cooling, we offer the highest-quality heating systems, and our technicians are highly-trained to install them correctly. We take great pride in our work, ensuring our customers are completely satisfied with their new heating system.
Heater Repair
Another essential job function of a heating contractor is repair. Over time, heating systems may break down or develop issues that need fixing; an experienced heating contractor can diagnose these issues and make the necessary repairs, from simple fixes like changing out filters to more complex fixes like fixing an ignition system malfunction.
At Bonsky Heating and Cooling, we understand how frustrating it can be when your heating system breaks down. That is why we provide 24/7 emergency repair services so you can get assistance when you need it most. Our technicians are highly-trained and experienced professionals with all the tools and knowledge to get your heater back up and running quickly.
Furnace Maintenance
Heating contractors offer maintenance services in addition to installation and repair. Regular checks on your heating system's components can help avoid problems from occurring in the first place, making it more efficient overall. Maintenance tasks may include cleaning the system, inspecting filters, and verifying all components are functioning optimally.
At Bonsky Heating and Cooling, we offer routine maintenance services to our customers. We believe that prevention is the best medicine, so our goal is to help customers keep their heating systems running optimally for as long as possible. Our maintenance programs are designed to maximize efficiency in operation, save you money on energy bills, and extend the lifespan of your heating system.
Energy Savings and Efficiency
A heating contractor's main role is to help you save money on energy bills by improving the energy efficiency of your heating system. They can offer advice and suggestions for more eco-friendly options, as well as conduct energy audits to identify areas where it may be wasting energy.
At Bonsky Heating and Cooling, we understand the significance of energy efficiency. We offer a selection of energy-saving heating solutions and can help you identify areas in which your system may be wasting energy. Teaming up with us not only saves you money on utility bills but also lessens its environmental impact.
Heating contractors are an integral part of keeping you warm and comfortable during wintertime. From installation to repair, maintenance, and energy efficiency, companies like Bonsky Heating and Cooling offer a comprehensive selection of services to meet all your heating requirements. If you're in need of heating assistance, don't hesitate to get in touch – we're here for assistance!
"They were very helpful and very efficient. They treated us wonderfully and I would definitely recommend them to anyone!!!!"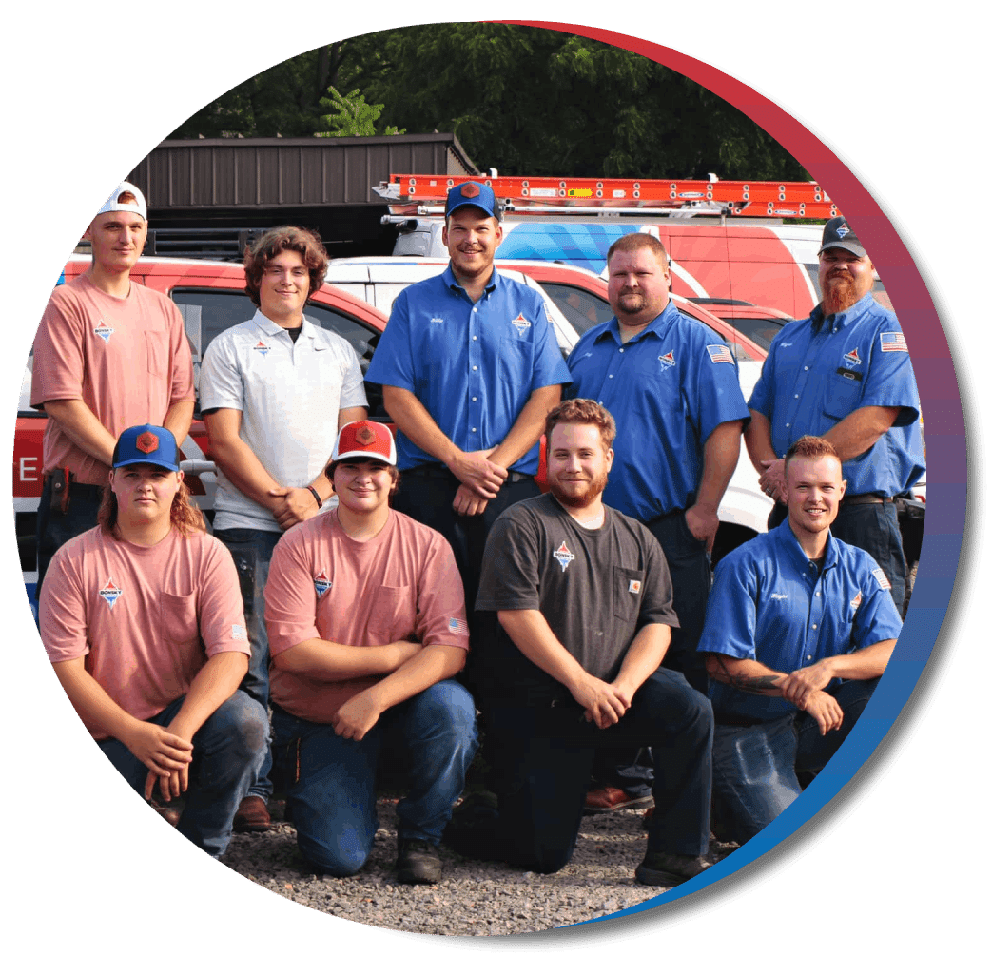 HEATING CONTRACTOR Services in Uniontown, OH
What can a company like Bonsky Heating and Cooling offer to improve your home's heating system? The best way to find out is to contact us for a free on-site HVAC replacement system estimate.
You already trust the professionals at Bonsky Heating and Cooling for all of your HVAC needs so there is no reason not to go with them when it comes to choosing the right heating system in Uniontown, OH and the surrounding areas.